Today's grandparents are more active than ever and can play the role of babysitter, weekend guests, and surprising playmates. So, if you're looking for fun things to do with your grandchildren on their next visit or the next time you go babysitting, here are some fun ideas for outings and activities to enjoy with your grandchildren the next time you're together.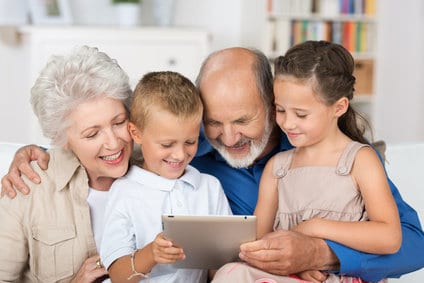 NATURE WALK
Take the children to a nearby park to enjoy the sights and sounds of nature! Throughout your little hike, don't hesitate to pick flowers with them or collect leaves or any other treasure that nature may offer you to create an unforgettable memory.
Walking is great exercise and a great way to get some fresh air. If the grandparent or small child has a dog, it encourages you to go out for a walk even more. The most important thing grandparents and grandchildren can do together is to talk and communicate. It's easier to do this by doing an activity together.
READ YOUR FAVORITE CHILDREN'S BOOK TOGETHER
Put away all screens and take out one of your childhood classics to read a little before bedtime. Take any children's literary classic, with a whimsical universe and endearing characters.
BRING OUT OLD FAMILY PHOTOS AND HOME VIDEOS
Set up the projector to browse through old slides or curl up on the couch for a home movie marathon. It's a fun way for your grandchildren to catch a glimpse of their own parents when they were little.
PLAN A SPECIAL OUTING
When there are several grandchildren, it is difficult to spend enough time with each of them. But if you can arrange an afternoon out with everyone for a special outing, it's a moment you'll cherish forever. Choose a zoo or aquarium preferably or spend the afternoon in the neighbourhood park.
Visiting the zoo is another ideal outdoor activity that grandparents and grandchildren can enjoy together. The zoo is always a fun place for children. They have the chance to see animals they've never seen before and zoos always have fun activities that adults and children can participate in. A day at the zoo is an activity that children rarely forget. No matter how you choose to spend your time together, your grandchildren will love it.
DECORATE T-SHIRTS
This may not seem like the most obvious activity, but it is fun and will certainly keep younger grandchildren busy if the weather is bad and you can't venture outside. Decorating t-shirts is always a fun craft idea for kids. Go to your local craft store to pick out your t-shirts and all the items you'll need to decorate.
PLAY WITH COCO TOGETHER
Playing Coco with your grandchildren will allow you to share good times! You will be able to answer together to questions of adapted general culture, learn about the wildlife, … A pleasant way to pass on your knowledge, while having fun. Laughter guaranteed.