Stimulation and cognitive rehabilitation software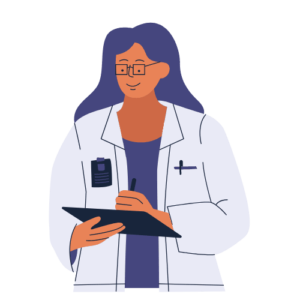 COGNITIVE STIMULATION PROGRAMS ON A TABLET

FOR SPEECH THERAPISTS, OCCUPATIONAL THERAPISTS, NEUROPSYCHOLOGISTS

…
You are a health professional (speech therapist, geriatrician, psychologist, psychomotrician, occupational therapist, general practitioner). You may be interested in:
our stimulation and cognitive rehabilitation programs, to practice with your patient or to prescribe exercises to do at home, to allow for their rehabilitation to be more interactive and user-friendly.
TAILORED PROGRAMS FOR

COGNITIVELY IMPAIRED PATIENTS
Our memory game programs work on different cognitive functions such as :
Attention
Stimulating attention
Being alert
Being reactive
Working on selective, divided and sustained attention
Semantic memory
Sensitivity to the environment
Storing information
Processing information
Automatic retrieval process
Episodic memory
Temporal, spatial and emotional memories
Semantic memory
Autobiographical events
Autonoetic awareness
Visual gnosis
and visual memory
Vision
Associative agnosia
Apperceptive visual agnosia
Visual anxiety
Visuospatial skills
Spatial representation
Mental imagery and navigational abilities
Perception distances
Creating mental images
The COCO THINKS and COCO MOVES, CLINT and SCARLETT programs are also adapted for patients with cognitive disorders who wish to rehabilitate themselves at home, in-between sessions with speech therapists, in a playful manner.
COCO is your fun games hero!
On the Coco app you will find educational games for children from 5 to 10 years old.
Smart screen time!
With your coach CLINT,
train your brain with mind games to work on your strategy as well as your literary, geography and general knowledge.
SCARLETT is a memory game program on tablet with easy and suitable games for seniors and their caregivers.
No failure, no score within the app.

YOUR BRAIN COACH HELPS YOU WORK ON
YOUR COGNITIVE FUNCTIONS

…
Each Monday, your coach will send you a weekly checkup, and advise you on memory games to play according to the goals you set for yourself.
Follow your progress and create a brain training program according to your needs.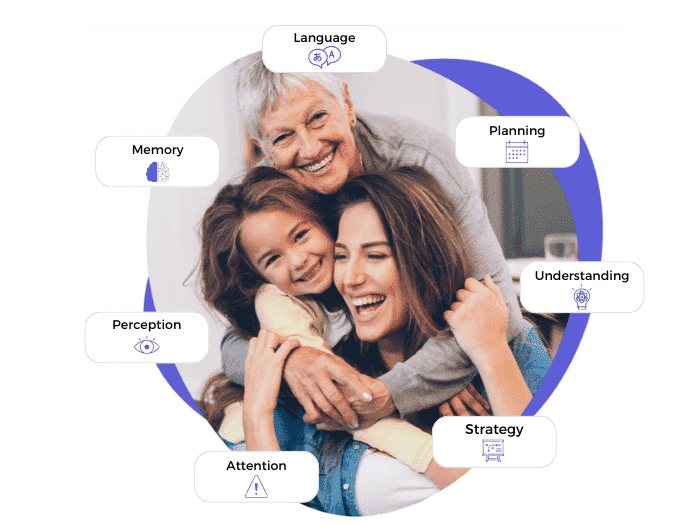 Your coaches COCO THINKS and COCO MOVES, SCARLETT and CLINT will work on all cognitive functions: attention, memory, language, causality … Your coach will send you an email every Monday, with a summary of your performance and personalized advice.
Our programs are complementary to your cognitive rehabilitation sessions with your speech therapist or occupational therapist, and you can also make an appointment with a DYNSEO expert for a personalized coaching: he will then be able to advise you on the best games to use according to your needs and your goals.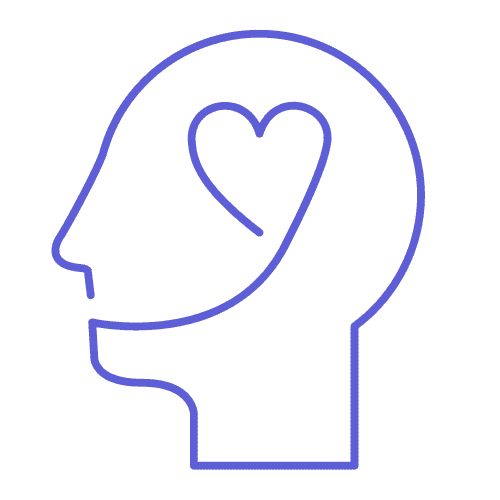 AN ASSET FOR

PROFESSIONALS & PATIENTS
With its innovative software, DYNSEO offers healthcare professionals a tool enabling them to:
Offer their patients custom tailored tools to their skills, abilities, and needs
Follow the evolution and improvement of their patients remotely without fear or concern, therefore allowing them to adapt their training sessions.
Take part in clinical research for the development of medical standards
Strengthen their relationship with their patients, who know they are being followed by professionals and supported, even remotely.
Help their patients take control of their own cognitive rehabilitation through innovative programs.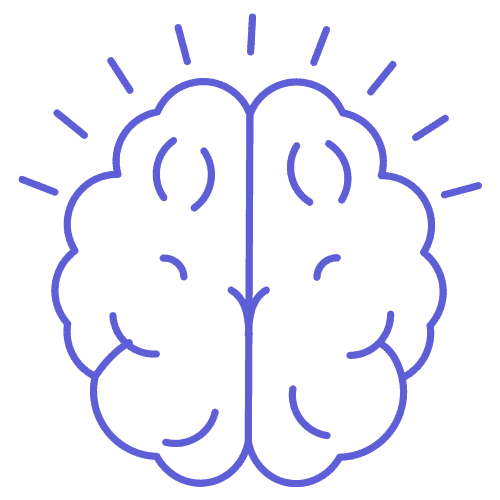 TECHNICAL SHEET

FOR HEALTH PROFESSIONALS
Dynseo provides heath professionals with technical sheets on the best and more adapted games to choose depending on the pathology of the people they are taking care of.
In these technical sheets, you can find:
a summary board with the main difficulties concerning the pathology the patients can encounter as well as suggestion of games to be played,
a list of games depending on the disorders or areas of difficulty, with cognitive functions being worked on for each game,
a set of practical examples on how to use the programs with the patients.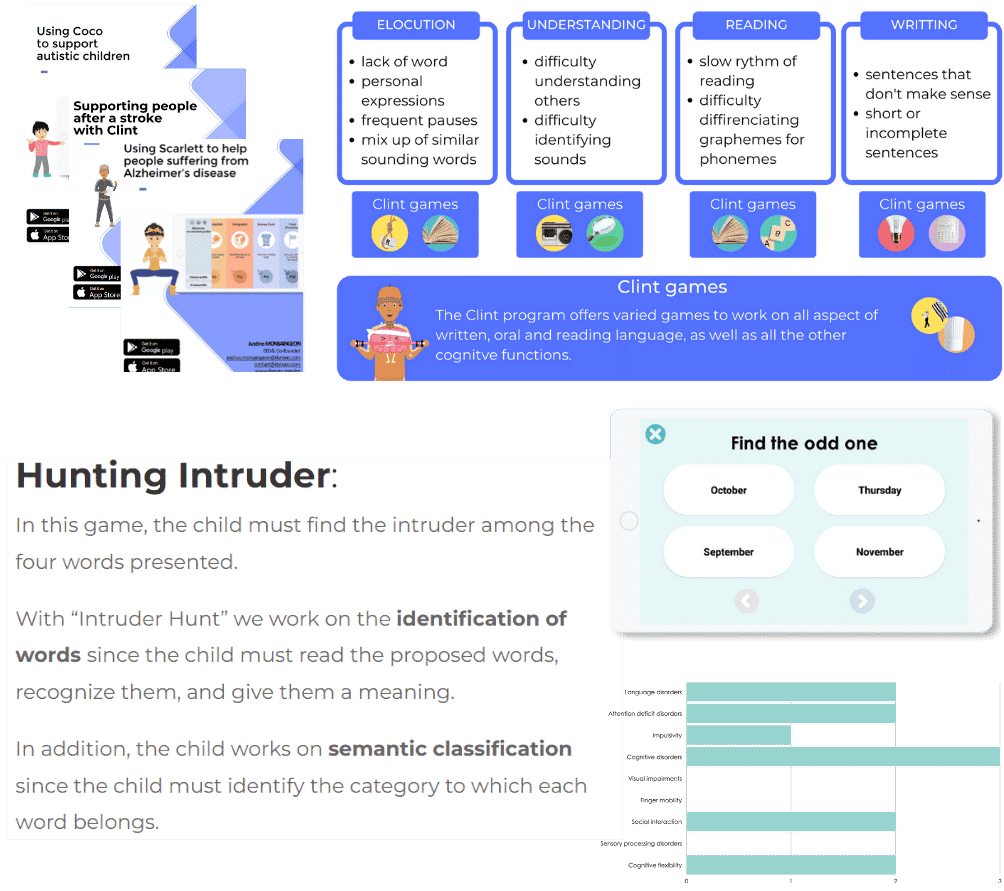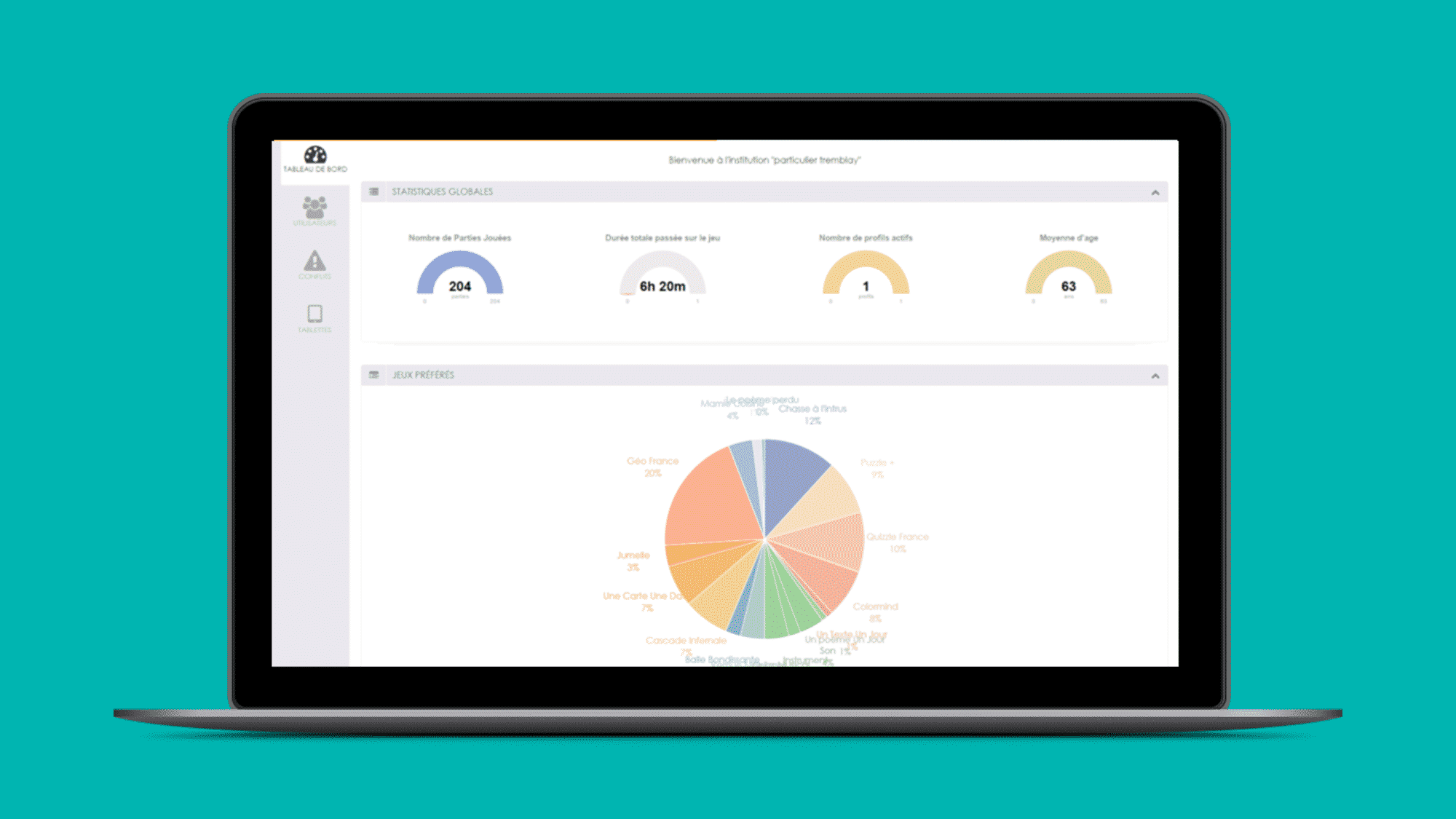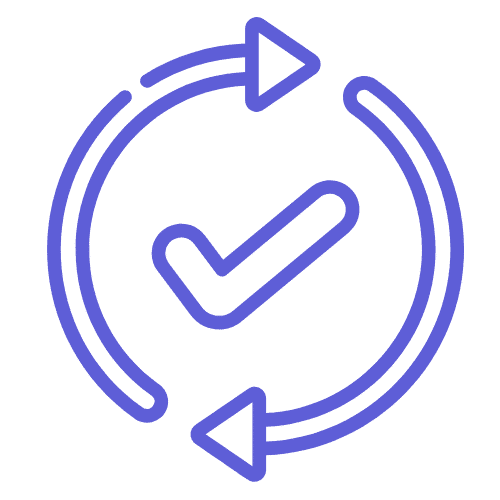 TAILOR-MADE SOFTWARE

FOR YOU
Beyond the programs already developed on our Scarlett and Clint programs, we give you the opportunity to introduce tailored solutions to meet the specific needs of your patients.
We support your work in designing custom programs that can be adapted to your real-life needs, with appropriate levels of difficulty.
You will be able to :
select the cognitive stimulation games,
choose each games' settings (level of difficulty, rules of the game…),
define the type of workout for each patient on the tablet or via the web platform,
monitor each patients' evolution over the course of their therapy.
TEST OUR APPS FOR FREE
FOR 1 WEEK