How to communicate with someone suffering from Alzheimer's?
Communicating with seniors suffering from Alzheimer's is not always easy! Indeed, caregivers must avoid using techniques and attitudes which are likely to disorient the seniors .
That is why it is necessary to be clear and precise when talking to someone with Alzheimer's. Thus, you will have to develop many qualities that you will learn step by step (patience, open-mind, warm).
Here are several tips that will help you better communicate with people suffering from Alzheimer's.
Through this article, Jeannette will share her experience with you and will give relevant advice which will help you improving your communication skills with people suffering from Alzheimer's.
However, everyone will react differently. Therefore, the following list is not exhaustive. You will need to remain open-minded and flexible.
Here are a few advice to help someone with Alzheimer's.
Call the seniors by their name, establish eye and physical contact with them .
Regularly remind them who you are and what do you do.
Keep calm and talk slowly. Use short sentences and do not shout!
Avoid too long and complicated sentences.
Ask short and simple questions: Example: Yes/No questions.
You should never tell them things they would not like to hear.
However, you should regularly talk to them and avoid secrets.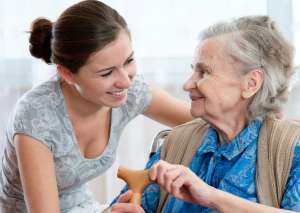 All this advice will be useful to improve your communication skills when talking to seniors with Alzheimer's. Seniors will gain self-confidence and they will easily trust you.
However, Jeanette can propose interesting features! You will discover new easy and powerful tools allowing a regular and adapted cognitive stimulation.
Therefore, she looked for more information about DYNSEO's solution to help people with Alzheimer's: SCARLETT.
Our SCARLETT program is a memory games program adapted to seniors suffering from cognitive disorders. It contains many games for the brain.
Indeed, it is important for people suffering Alzheimer's to regularly train their brain.
Our SCARLETT program contains fifteen brain gamesculturally adapted. Our brain exercises have been designed with health professionals and seniors to propose adapted memory games for adults.
Seniors are never put in default and they can take their time to answer the questions.
Our brain games are used by health professionnals and individuals.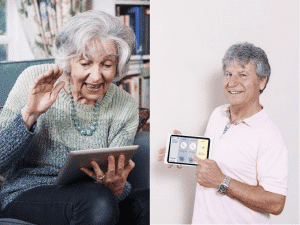 Don't Forget!
A senior suffering from Alzheimer's is not stupid. People with Alzheimer's are intelligent but are unfortunately suffering from cognitive disorders.
The Alzheimer's disease usually changes people's behavior. You should adapt yourself to their mood and use an adapted vocabulary. Don't hesitate talking to them, asking short and simple questions (Use yes/no questions).
Besides, look the s in the eyes when you talk to them. This will make them confident. Don't forget that the physical contact is also important.
Golden rule: Caring after someone with Alzheimer is not easy! If you are having trouble, don't hesitate to contact family members or health professionals to benefit from adapted and relevant advice.
Jeanette hopes that all this advice will be useful! She will come back to you soon with new relevant advice! Take care!