Sarah has been a personal carer for a few years. She reveals the characteristics of her activities and how her passion for this job was born.
Some activities are confusing; what is the difference between a family caregiver, a nursing auxiliary and a personal carer?
A nursing auxiliary focuses mostly on hygiene and medical cares. While a personal carer helps the elderly to do everyday actions, so they can stay home with a satisfactory standard of living.
Why did you choose to become a personal caregiver?
It is mostly for the social aspect. It is what appealed to me. Meeting and helping people are something I find to be rewarding. Thanks to our daily activities, elderly people can stay home longer. I feel useful doing this job and I could never imagine having a desk job anyways. I like to move. I need change, I need diversity in my job. I cannot do the same thing all the time. My job has various tasks which keep me away from monotony.
Can you describe your work?
I do my best to help people in their daily tasks. My activities include all the daily actions, such as cleaning, ironing or going grocery shopping. I meet many elderly people who do not have their full cognitive and physical abilities.
Therefore, I often have to give them a hand by doing some administrative tasks. This involves filling out documents or carry packages. I sometimes do a bit of reading as well.
Wherever I go I always carry a tablet with the Stim'art app on it. With the app, I am sure to have fun memory games that are adapted to the elderly people.
It helps to have a good time with the seniors and to create a connection with them. They ask for it during each visit. It is pleasant to see they enjoy it and that it helps them.
Can you tell us about a working day?
I work 8 hours per day, from 8 a.m. to 4 p.m. My planning is entirely made by a social worker. Usually, I have to take care of four people every day: 2 in the morning and 2 in the afternoon.
Do you work alone or with a team?
I do my work alone at the person's place. However, I work under the supervision of a social worker.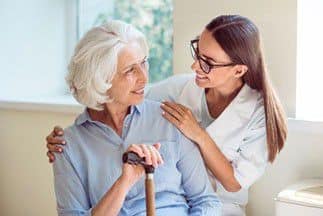 Considering all the activities, can we say it is an exhausting occupation?
Physically, this work can quickly become hard, even more, when you have to wash the people you help. The emotional aspect is probably the hardest part of it. Indeed, you cannot share moments and emotions with people without creating a bond, even more with elderly people. It is really tough to hear that a person you help died.
What makes a good personal caregiver?
First, a good caregiver has to like elderly people. Then, the caregiver needs to be patient, attentive, obliging and have empathy.