Alzheimer's disease is becoming more and more acknowledge around the world. We know more or less what it refers to, but that doesn't mean we are aware of details, how it works, and how it progresses. Alzheimer's disease doesn't happen overnight, it takes time to set in and gets progressively worse. It is important to know the different symptoms but also to easily identify the different stages of the disease.
This will allow you to be well prepared and successful in keeping up with the progression of Alzheimer's disease. Identifying the 7 stages of Alzheimer's disease will allow you to set up adapted support and modify it over time to allow the person with the disease to remain in a safe environment with perfectly adapted help.
If you are unclear about the 7 different stages of Alzheimer's disease, we suggest you read the article we have prepared to prepare you to act in the right way. So, don't wait any longer to read the rest of this article!
STAGE 1: THE BODY'S NORMAL FUNCTIONING
Alzheimer's disease develops gradually and is divided into several stages. The beginning of the disease is the most difficult stage to identify. The symptoms do not all occur overnight. It is difficult to find signs of the onset of the disease and symptoms may vary from one patient to another.
The early stage is very difficult to identify as the onset of Alzheimer's disease because it does not present any memory impairment. Dementia is not yet present in everyday life. To find out if Stage 1 is present, you should therefore contact a health care professional to perform tests to determine if the person is in the early stage of Alzheimer's disease.
STAGE 2: MILD COGNITIVE IMPAIRMENT
The second stage is easier to identify but it can also be a symptom from aging. The patient will have more and more memory lapses, some common words will escape him as well as the position of some everyday objects. However, there will be no visible dementia, but a doctor will be able to detect it.
This stage is therefore easier to identify, but it essentially concerns a cognitive impairment affecting memory. It can therefore be a sign of Alzheimer's disease but also a sign of age.
STAGE 3: MILD IMPAIRMENT IN THE PATIENT
This part can easily be noticed by the family. The patient can also go through a medical follow-up to confirm their relatives' doubts. It is often at this stage that doctors are able to detect the early stage of Alzheimer's disease. It is therefore important to know what the disease is all about. This manifests itself in difficulties in finding the right vocabulary, the names of some people. Patients may also forget what they've just read, lose their belongings, feel uncomfortable in society or have difficulty planning tasks.
STAGE 4: MILD IMPAIRMENTS
This part often helps to detect an early stage of Alzheimer's disease by observing certain symptoms of Alzheimer's disease that do not lie.
The patient will forget recent events or their past. Mental abilities such as arithmetic will be more complicated, as will performing certain tasks or preparing dinner.
Patients with Alzheimer's disease will often experience mood swings and social withdrawal because they will not feel comfortable in a social setting.
STAGE 5: MODERATE ALZHEIMER'S DISEASE DEFICIT
When the patient arrives at this advanced stage, they face many problems in daily life, and this means that they will need appropriate support. People with Alzheimer's disease cannot remember their address, contact details or anything about their past. As a result, they quickly find themselves lost in space and time while needing help to eat or go to the bathroom.
A patient with Alzheimer's disease at this stage will have difficulty performing calculations or remembering important events. Daily assistance will also be needed for tasks such as choosing appropriate clothing for the season.
STAGE 6: SEVERE ALZHEIMER'S DISEASE DEFICIENCY
This serious stage involves a worsening of every sign and requires a great deal of implementation to help the person with Alzheimer's disease. Therefore, it is important to know the person's limitations with Alzheimer's disease by getting to know the various elements of this stage.
The disorders are located at the level of memory, sleep, identity, incontinence or daily landmarks. This very often leads to personality disorders such as mood swings but also to mistrust of the world around them. Not to mention the possibility of hallucinations. It is, therefore, important to provide comprehensive care for everyone at this stage of the disease.
STAGE 7: THE MOST ADVANCED STAGE OF THE DISEASE
During this last stage, the patient can no longer have conversations or interactions with those around them, which they no longer recognize. They are also unable to make understandable gestures or sounds and it is important to provide full support to help the person with Alzheimer's disease.
AN ADAPTED APPLICATION : SCARLETT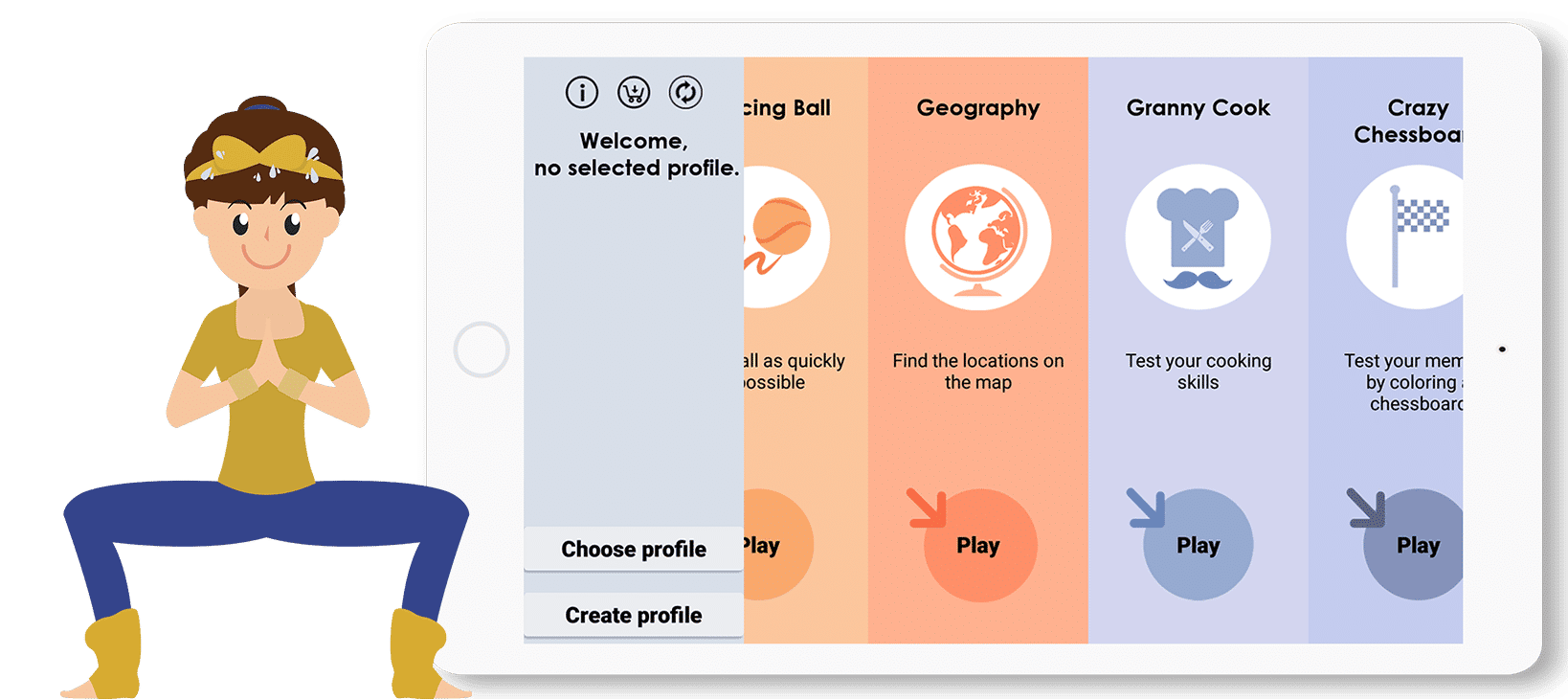 A program of +25 memory games adapted to people suffering from cognitive disorders, including Alzheimer's, Parkinson's and other neurodegenerative diseases.
A simple interface with three levels of difficulty so as not to put anyone in check.
The application works without wifi.