Our memory games interest you? Discover our promotional offers.
Get my app
DYNSEO supports research on Alzheimer's
DYNSEO is involved from the beginning in the research against Alzheimer, in order to invent, with its health partners, the tools of tomorrow for:
- Identifying at the earliest neurodegenerative diseases
- Preserving as long as possible the cognitive abilities of each
For each order, 2$ will be donated to our health partners for the research against Alzheimer's.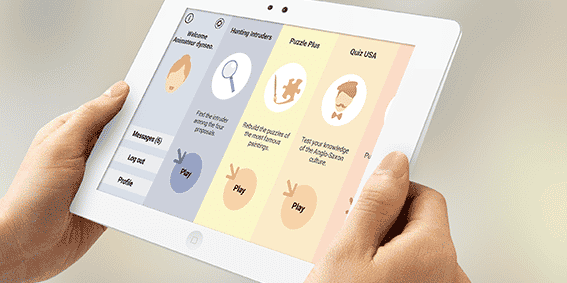 Whether you run a senior's residence, a retirement home or a nursing home, two of our product lines can help ensure that your residents receive the best quality care. In collaboration with neuropsychiatrists, we develop : – Cognitive testing which assess the residents' cognitive abilities – Cognitive stimulation exercises in...
Read more
The tablet in nursing homes!
"The games work well in workshops. I used them in memory workshop: independently with residents with limited cognitive impairments and in group workshops. They need to be guided but they manage quickly enough to be independent.I also used the tablets in our protected unit and it went also very well. I was able to use the sound recognition games. They were driven beyond my expectations. This game promoting saying out loud souvenirs, success and failure. I have also been able to harvest 5 words of a resident mute who had not spoken with words for months. In summary, this is a really good cognitive stimulation tool for all. "
Cécile, psychologist in nursing homes
Customized programs