In October, DYNSEO organized a major national survey on activities in retirement homes. The aim was to provide an overview of existing practices and to share good practices with the community.
We received more than 650 responses to our survey, and we would like to thank all the animators, psychologists, and directors who took the time to answer our survey.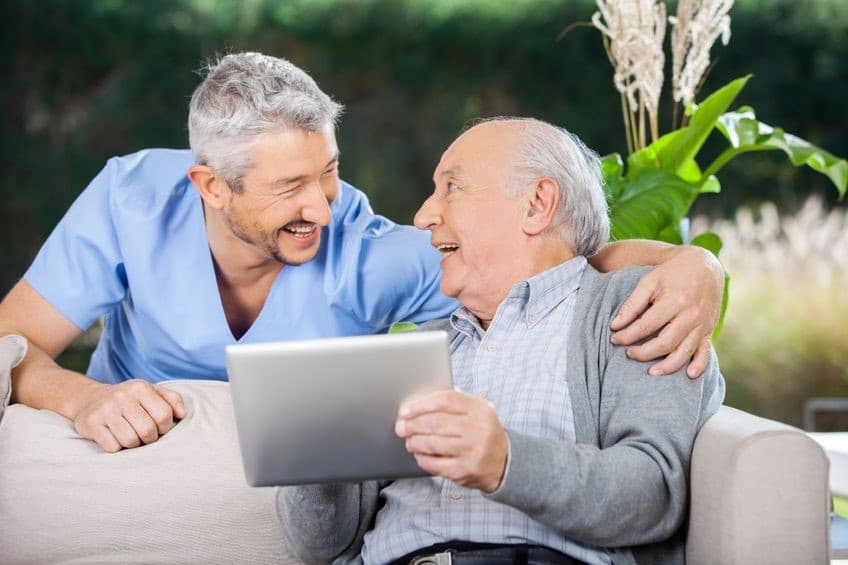 PROFILE OF ACTIVITIES IN NURSING HOMES
What are your residents' favorite activities?
Participants could select up to 3 activities.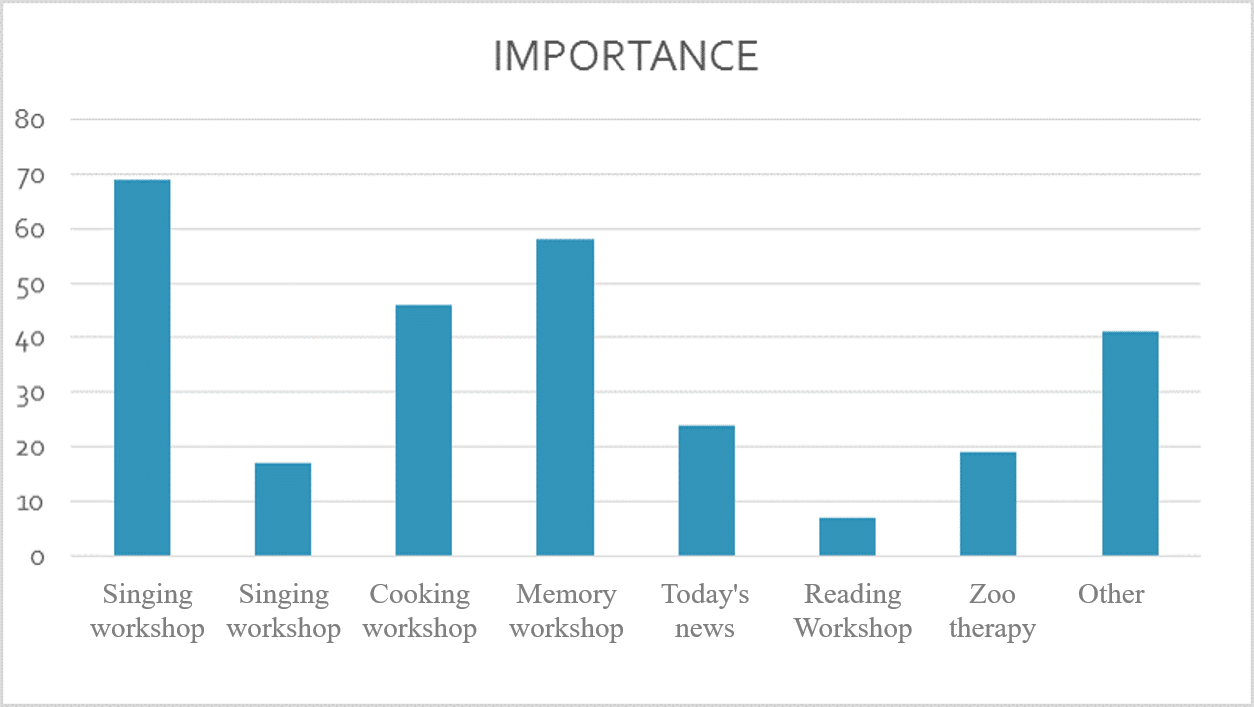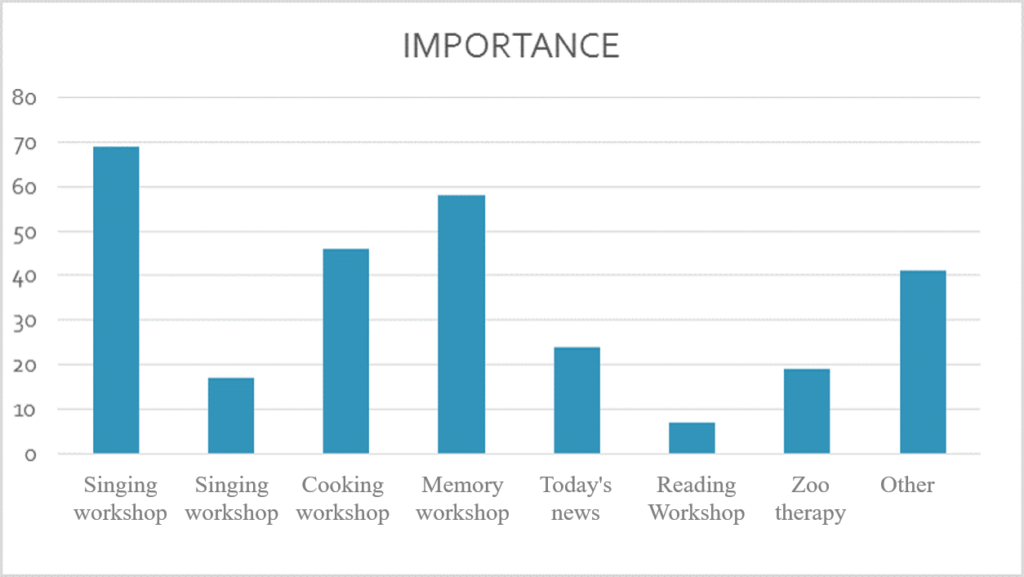 Other preferred activities identified are:
Lottery, board games and card games (triominos, belote, scrabble, …),
Outings and shows cultural outings, organized shows, outdoor walks, cinema, restaurant outings,
Intergenerational encounters,
Memories of the past: reminiscence activities,
Memory games and brainstorming,
Computer workshops,
Soft gymnastics: adapted physical exercises, fall prevention training, wii, chinese gymnastics, body expression classes, tai chi,
Creative activities: reading, creative knitting classes, writing activities, cooking classes,
Gardening and floral activities,
Sensory classes,
Relaxation, modeling and beauty treatments,
Mass,
"a little chat" activities which gives the residents a chance to express themselves,
Folding laundry.
What are the best activities you have set up?
Here is a sample of the best activities carried out in retirement homes, which complete the above list, do not hesitate to write us to get the complete list. Music, memory quizzes and gardening activities are very popular and are always mentioned in the best activities.
The organization of inter-structure Olympiads,
Animations with humanitarian purposes (telethon, knitting for Nepal, creation of cuddly toys for foreign countries, sewing activities of "cuddly toys" for the neighboring nurseries),
Theme meals (Italian, Creole, raclette, …) as well as organized degustations,
A mushroom exhibition,
Meals with families and tea dances,
The reconstruction of a mini farm with animals (goats, rabbits, chickens…), or the creation of a chicken coop,
Museums moving into the nursing home for video screenings, conferences and exchanges with museum staff,
Neighbors' Day in the neighborhood,
Walking dogs from a shelter,
Mimes,
Circus,
The monthly birthday party with an accordion,
The SURPRISE GUEST game where residents are shown three clues to discover who is coming to see them. We had a "Malinois" search dog from the Police Force along with his master,
The Breton-French bilingual lottery,
The transmission of the 1939-45 war remembrance (Residents-Middle Schooler) over a period of one year (once a week),
The organization of an old-fashioned fair,
An exhibition "vintage cars",
A demonstration of old professions,
A sled dog ride,
Reading support for children in 2nd-3rd grade,
Writing a book for children and then reading it aloud to the residents,
Carnaval with all the staff in costumes,
Trout fishing and meals with what the residents have caught,
The Longest Word Game,
Laughter yoga,
Intergenerational bowls and barbecue party,
An inter-establishment "Cannes festival",
A snack contest,
A cooking class with young disabled people "like chefs",
Participation in handisports, with a 3 km wheelchair race,
An intergenerational fashion show,
The the establishment's Miss and Mister election,
The realization of Maryline Monroe's portrait, 1.85 m X 1.85 m from Nespresso coffee capsules,
Organization of the French Baccalaureate with revisions, invitations, and adapted tests,
A diaporama on the regions of France,
The weekly market outing,
An inter-institution costume party,
Journal writing by an editorial board including residents, volunteers, families and staff,
Christmas party.
Do you have other people accompanying you during your activities?
The nursing home's facilitators are:
 43% assisted by volunteers,
79% by care assistants, (rarely 50%, often 29%)
However, in 41% of cases they are never assisted by psychologists, 93% by speech therapists and 72% by occupational therapists.
Ainsi, nous pouvons penser que dans la majorité des cas les animateurs organisent seuls les animations en maison de retraite, avec la participation occasionnelle de bénévoles, aides-soignants, et autres professionnels de l'établissement.
Thus, we can think that in the majority of cases the facilitators organize the activities alone in the nursing home, with the occasional participation of volunteers, care assistants, and other professionals of the residence.
Do families take part in the activities?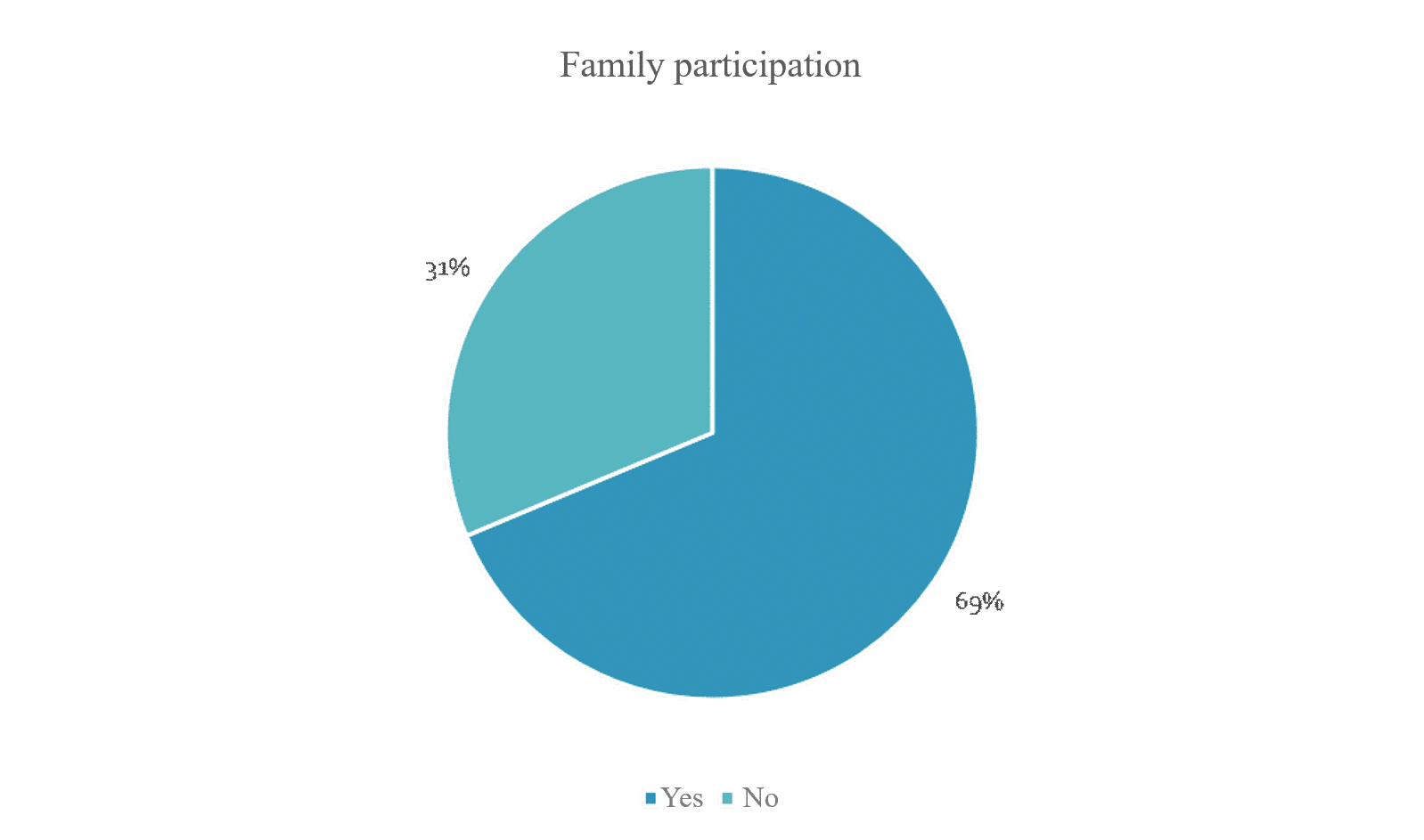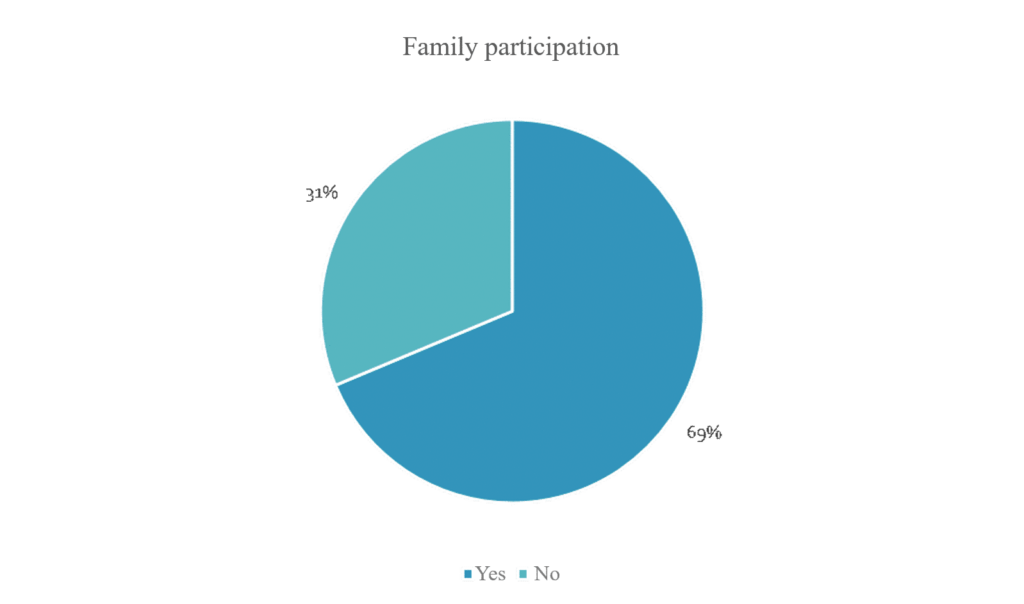 69% of families take part in the nursing home activities.
If not, why aren't they participating?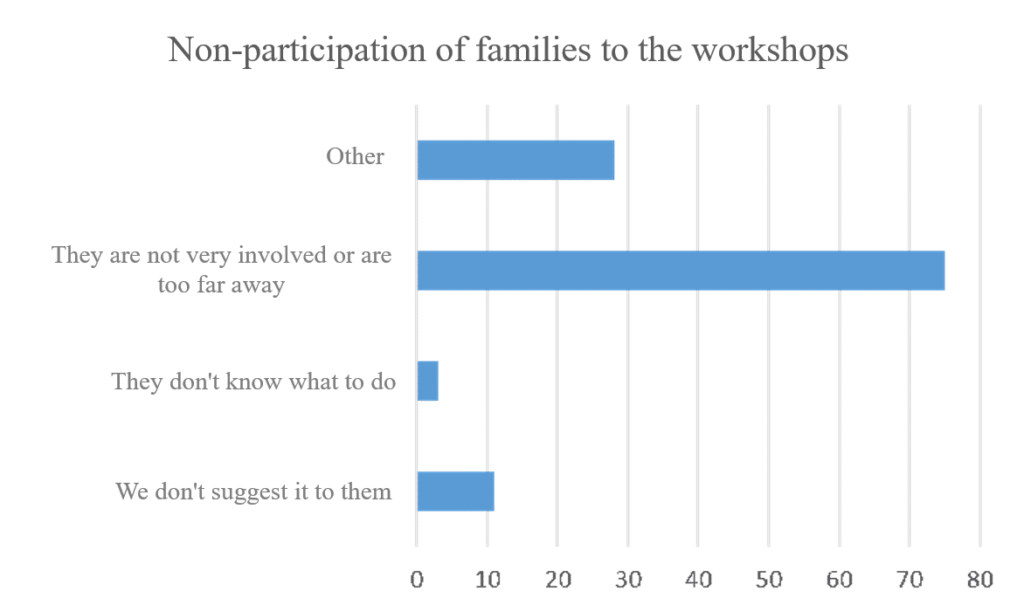 How do you rate a good activity?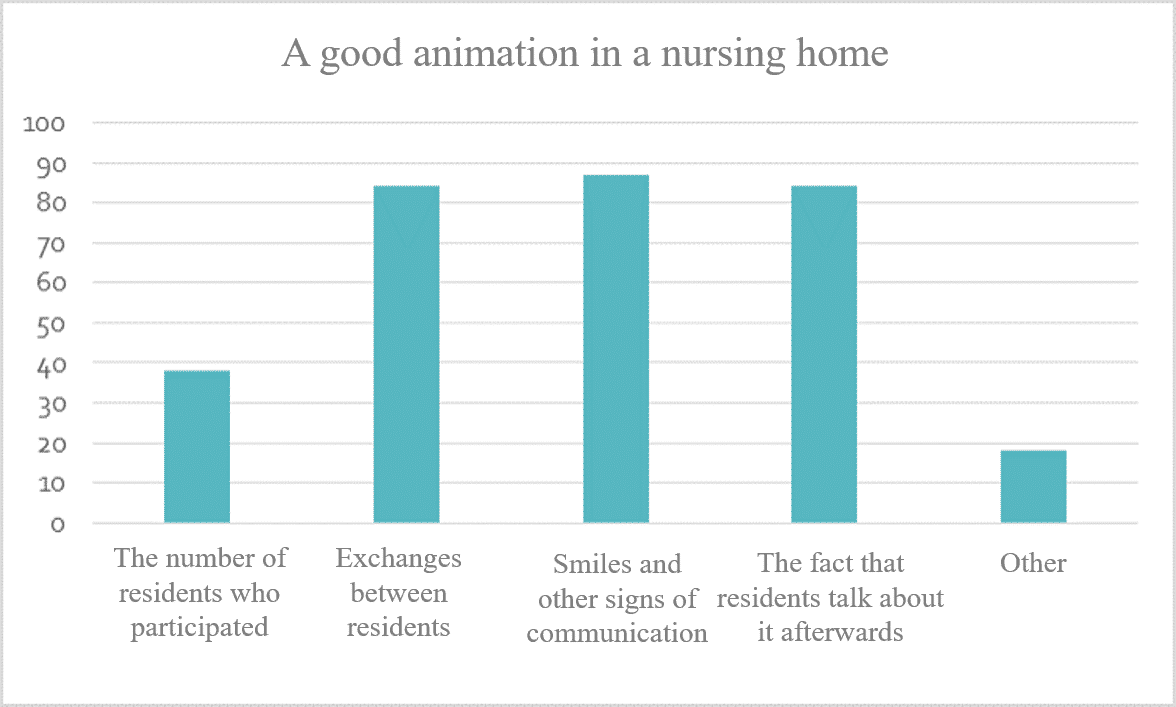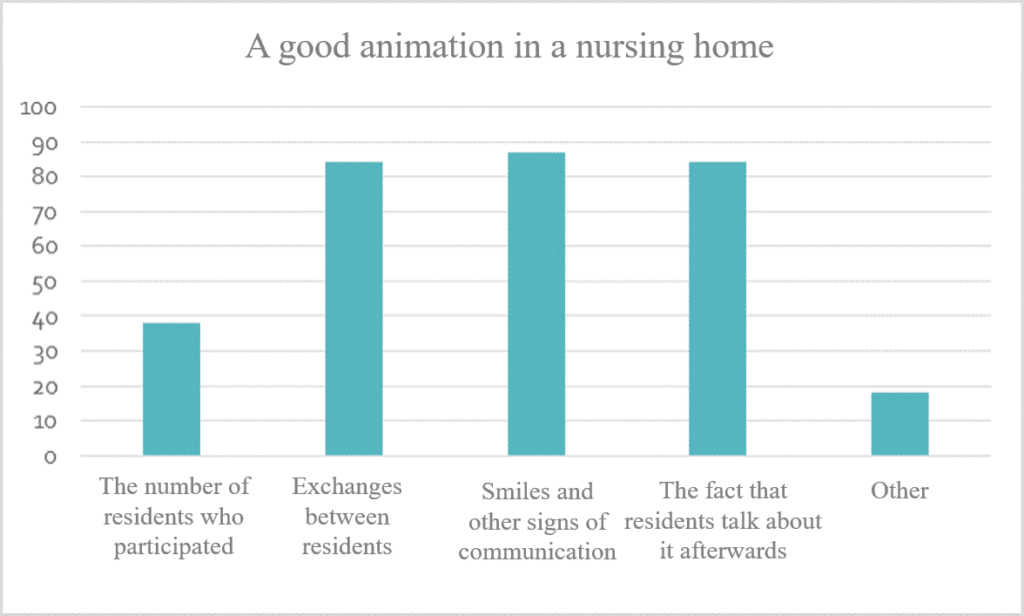 Several other criteria make it possible to evaluate a good activity in a nursing home, both in the achievement of the set objectives, but also in the feedback from the residents and the families:
Before the activity
waiting for the activity,
whether residents go down to the activity alone or whether they ask the caregivers to take them down,
the fact that the residents come voluntarily,
During the activity
The enjoyment shown by the residents,
The connections between participants,
The spontaneous participation of caregivers and families, and their gratitude in the end,
After the activity
"is it already over?!" and the time flying by,
Residents asking to re-organize the activity, and motivation from new residents to participate,
Residents' loyalty to the activity,
The residents feel better, less anxiety, less isolation and boredom.
What is the percentage of collective activities compared to individual activities?
Most of the activities in nursing homes are organized in collective workshops, with a distribution of 90% collective activities and 10% individual activities.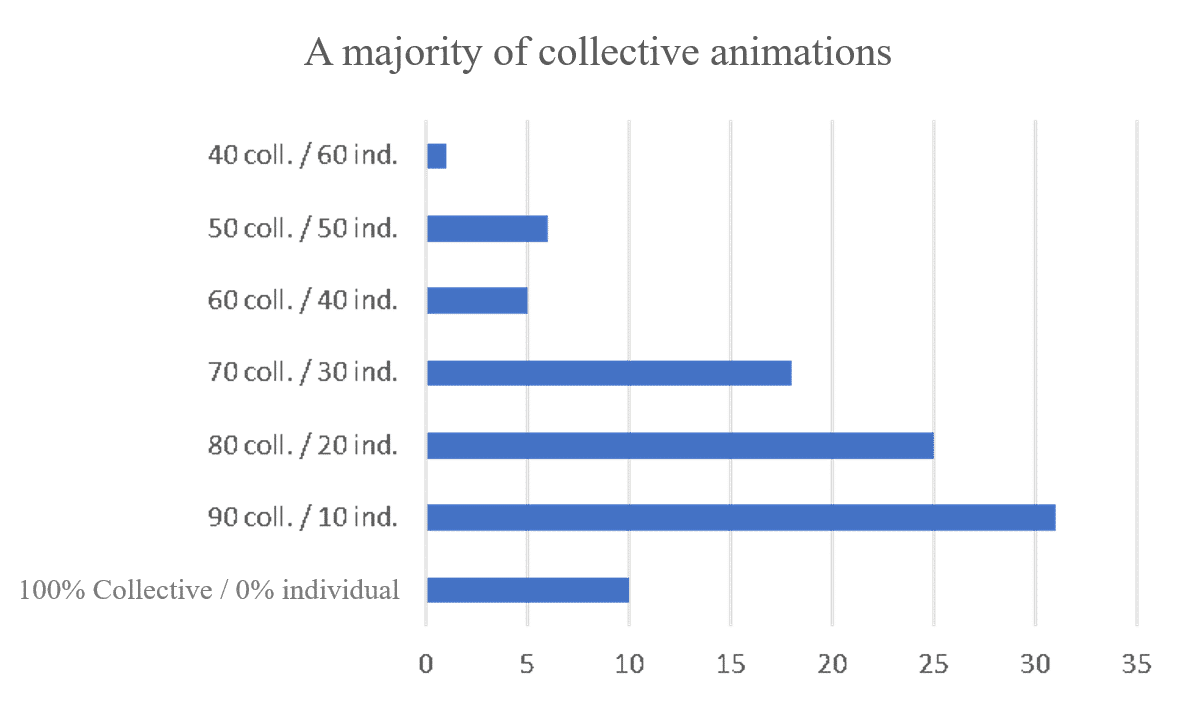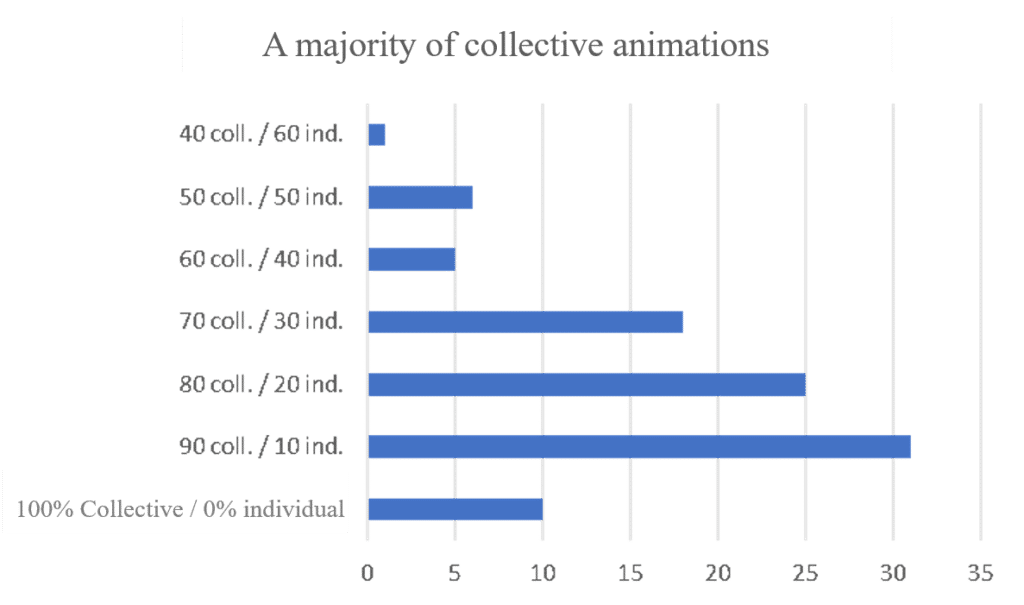 Do you monitor your activities individually?
69% of nursing home activities are combined with an individualized follow-up.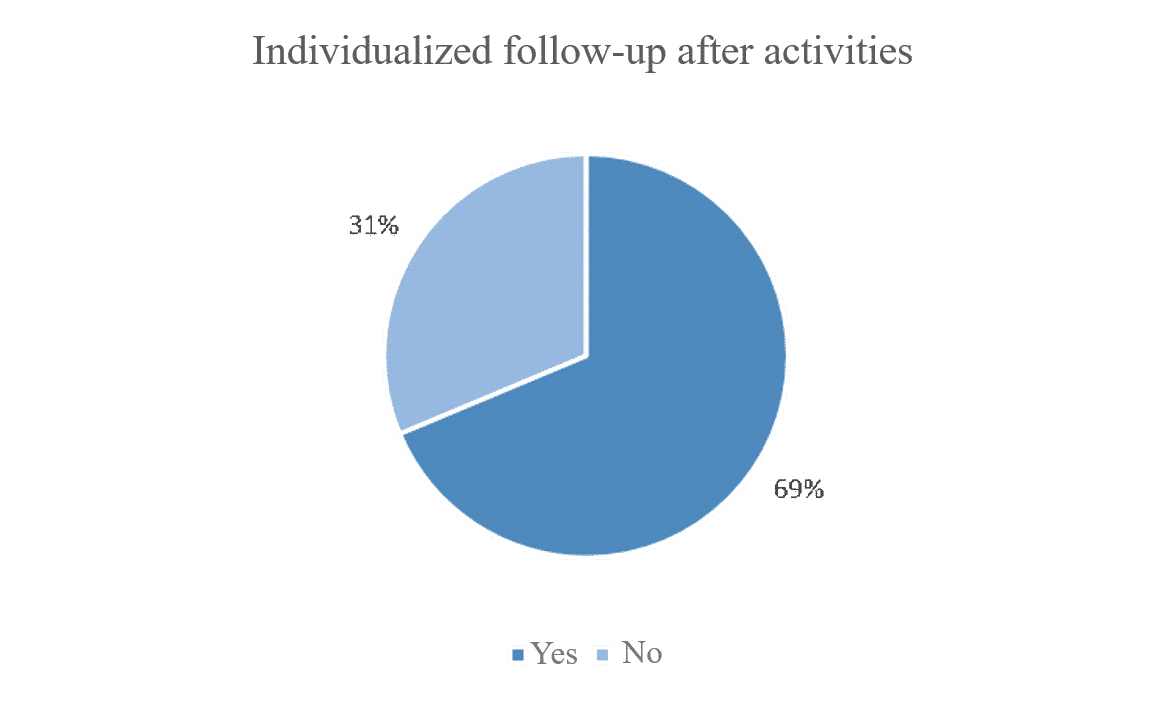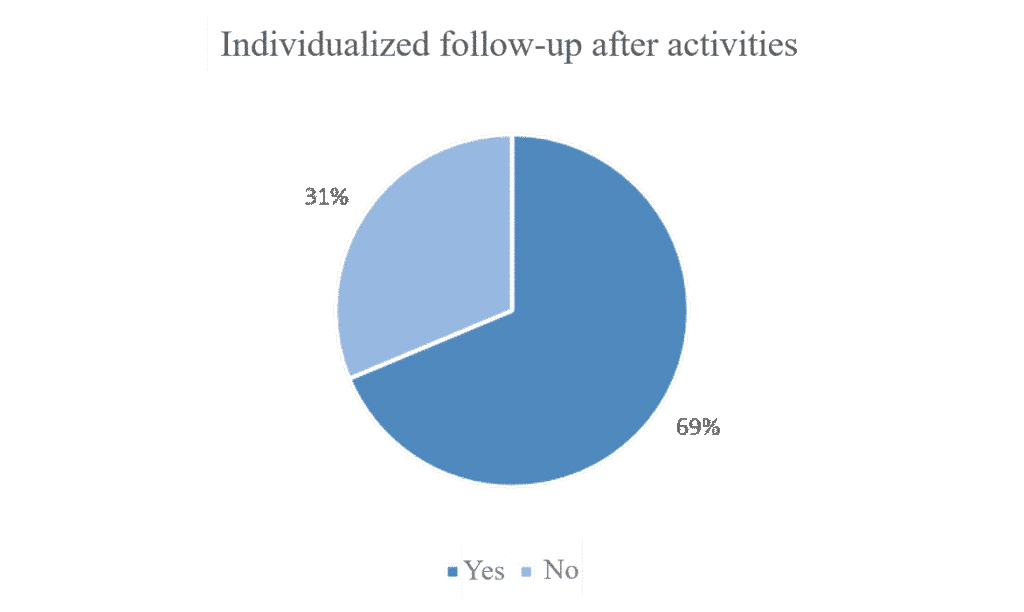 What advice would you give to a new facilitator?
Here is a list of tips given by nursing home facilitators. This list is non-exhaustive, given the wealth of information collected, do not hesitate to ask us for more details!
Preparing for the activity
Meeting each resident individually, to get to know them better to anticipate their anxieties and help them to get familiar with them.
To know the different residents' pathologies in order to direct them towards activities without putting them in difficulty, and to train them in gerontology.
Never assume their incapacity because they always make us look like fools.
To make simple workshops, taking into account the place where one practices (rural or urban) and to propose workshops that are supposed to interest them (in connection with their past).
Plan the activities, in order to give the residents reference points in time and to build their loyalty.
Alternating group and individual activities, without forgetting anyone.
Be ambitious and not afraid to make big plans.
During the activity
Never become rigid in terms of your activity project, but let yourself be "brought to life" by the residents' contribution: listen to them, by bringing them a bit of craziness.
Allow yourself to take groups of 3 to 4 people.
Know your skills and your own limits, and don't be afraid to ask for help from other caregivers.
Don't be afraid of being ridiculous.
Don't expect results, as in a DIY workshop, and work with the residents, not for them.
Know how to improvise and have great flexibility.
Do not hesitate to stimulate the residents, because they are often more spectators than actors. You must therefore know how to encourage them, solicit them, but never force them!
And finally … Do what feels right for you.
After the activity
Bounce on all the information that can create new activities.
Constantly question yourself.
Don't expect too much gratitude.
Do not get discouraged after a failure, it is always constructive!
In general
Be available for everyone (don't forget anyone) and in all situations (end of life).
Always value people, and never let them down.
Keep your motivation, creativity and morale, and never give up.
Work in complementarity with the care team.
Create a bond with the families.
Never infantilize them.
Give priority to the quality of the activities rather than the quantity.
Contact the town to find out what partnerships could be set up (schools, associations, etc.).
In terms of organization
Plan and budget activities over the year.
Create a central theme for the year.
Coordinate a unifying weekly activity.
Create technical sheets for each workshop.
Individualize the residents' expectations
Participate in the development of each resident's care plan.
Evaluate each workshop daily
Asking the right questions. 1) observation 2) choice of the activity 3) possibility 4) finality and objectives 5) activity's process.
Arm yourself with good working tools (list of residents, documents to monitor residents, activity sheets must be done by yourself because they do not exist in the structures).
However, entertainment is more than just an activity time, because it can also mean bringing people to life. In this sense, it is also necessary to take the time to discuss, to drink a coffee with a resident; sharing a smile is the most beautiful thing that can be offered to isolated people.
We will end with this last piece of advice given several times: SMILE!
NURSING HOMES AND NEW TECHNOLOGIES
Have you tested any new technologies?
50%, the nursing homes have tried out new technologies.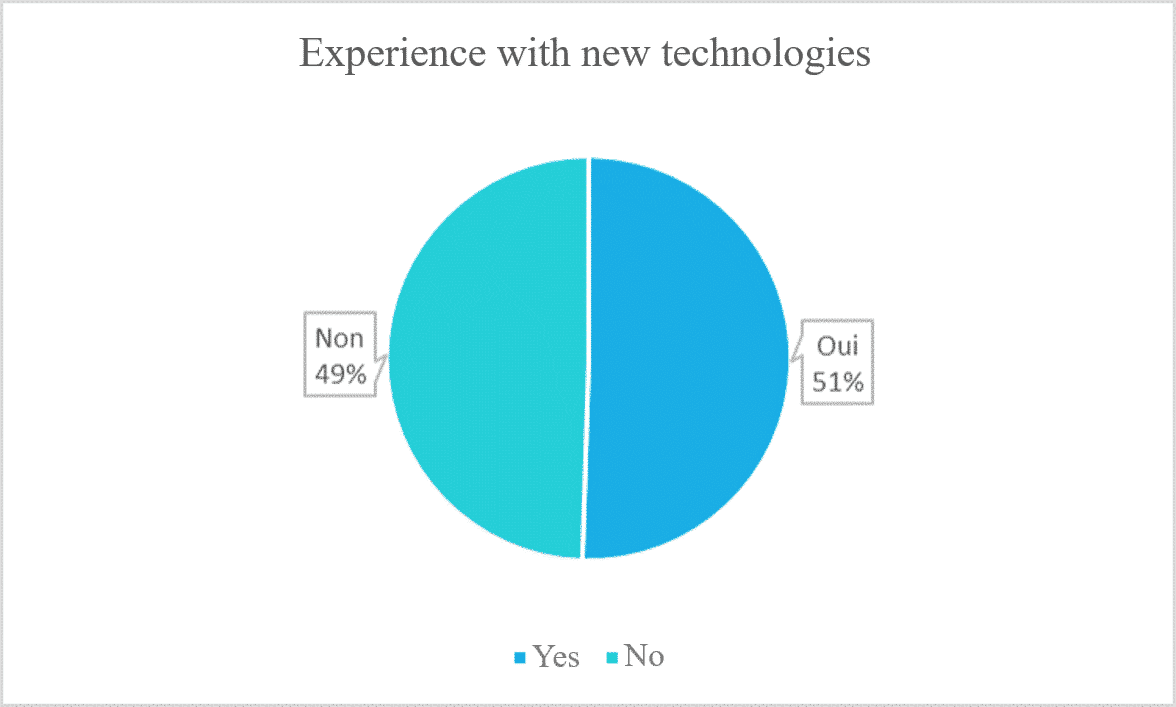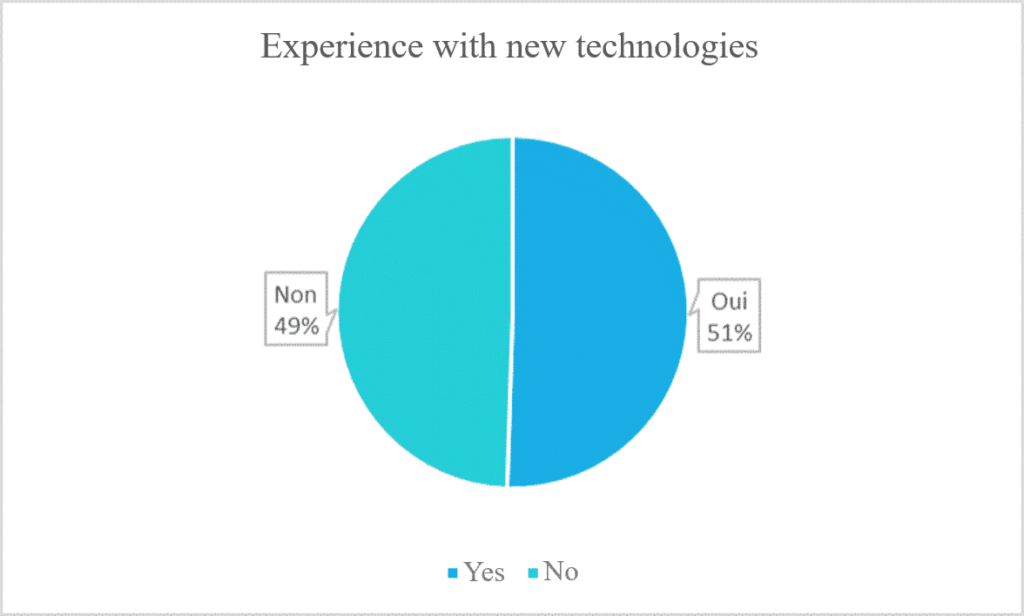 What new technologies have been tried out?
The majority of the new technologies being experimented with will be tablets, internet, overhead projectors, and associated karaoke, Snoezelen spaces, and Wii.
Some internet functionalities have been developed in particular with the residents: sending emails to relatives and Skype, taking digital photos, viewing the residents' home villages via Google Earth, tracking photographer's travel blogs, using software to visit online museums such as the Palace of Versailles, …
Very interesting ideas are to be taken from the new technologies tested: 3D printers, adapted vehicles, reading lights, music kiosks, light therapy, the Montessori method, multi-sensorial carts, golf carts, a waterbed, as well as the Physiopark.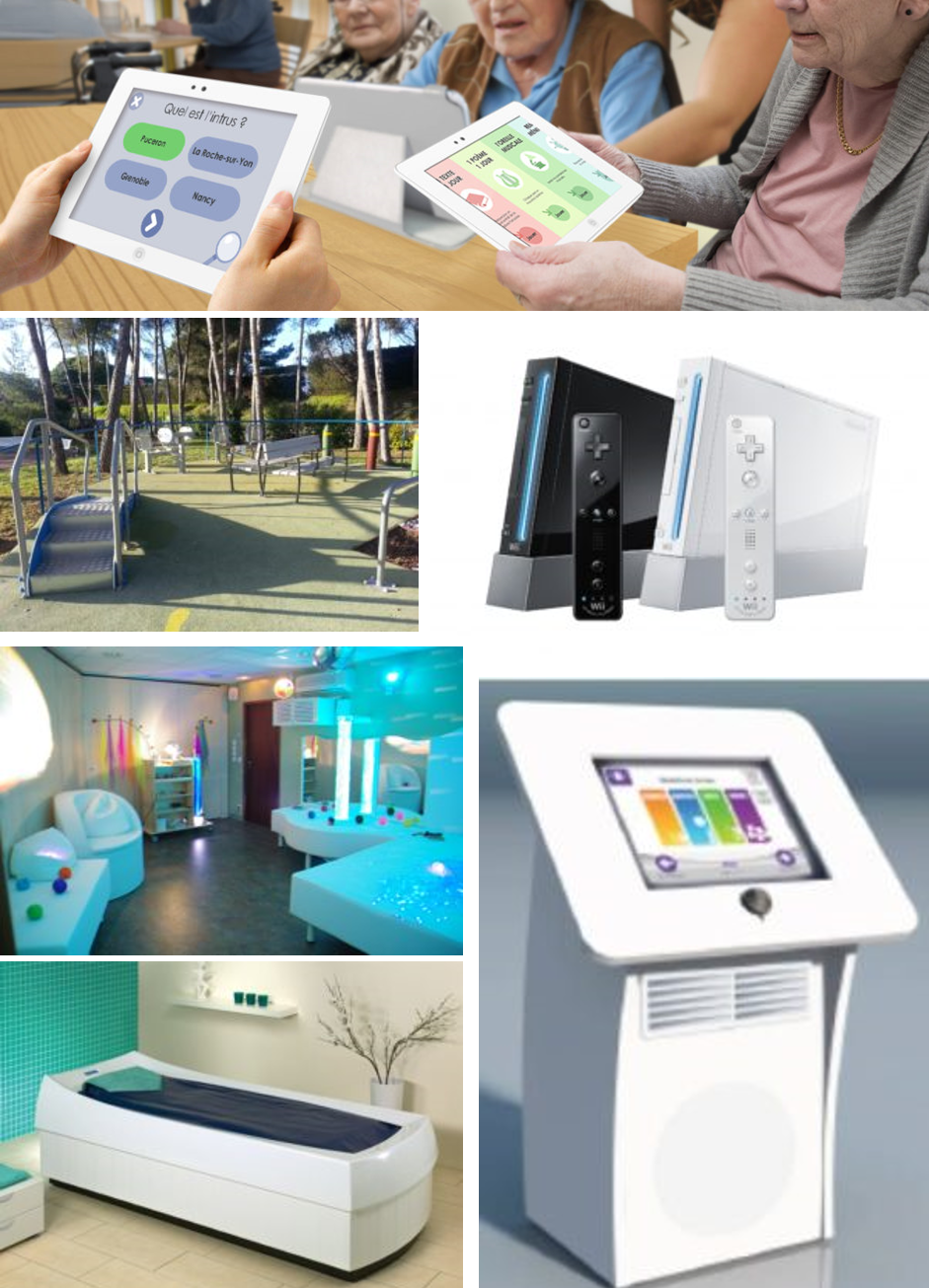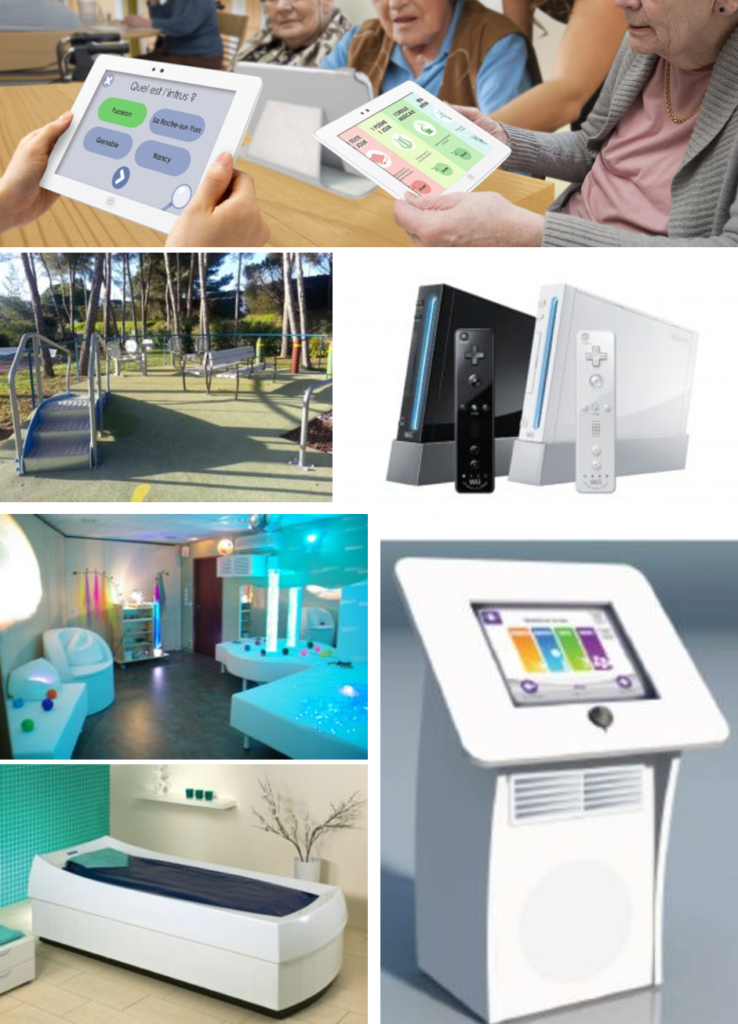 What has worked?
Here are the new technologies that have worked and their features:
Internet research: press, wikipedia, google earth, additional information,
Memory games and questions and answers,
Large screen projection of lottery, games, and karaoke,
The tablet by its touch approach,
E-mail exchanges with the little kids, and skype,
Light therapy,
Music therapy, and anything to do with music,
Adapted game consoles,
Intergenerational workshops on these new tools.
In terms of feeling as well, new technologies have brought new things to the residents, and the facilitators noted :
The interactivity related to these technologies,
The residents' curiosity, attracted by the novelty, the competitive spirit and the atmosphere,
The pleasure of being in a small group,
Exchanges created between residents, and with caregivers,
The valorization of the residents who come there, and the individual care that is allowed,
Soothing after the activity, care assistance is easier to accept,
The very positive feedback from the dementia residents who enjoy the sessions.
In addition, the new technologies workshop often worked when the facilitator no longer presented it as a computer workshop, but as a workshop to discover new "techniques".
What didn't work so well?
The following are the negative aspects associated to the use of new technologies in nursing homes:La difficulté du maniement de la souris (très souvent remonté),
Difficulty in learning how to use the joystick on game consoles with several buttons, and understanding that the movement of the joystick acts on the television,
Lack of spontaneous demand from residents,
Solutions that are not easily accessible to people in wheelchairs,
Generations unaccustomed to virtual relationships, and the difficult use of Skype,
Problems with hearing or visual impairment,
The lack of autonomy of the residents to use these solutions, they always need a pair (caregiver or family): the cursor is difficult to see, and the keys are too close together. There is more suitable equipment but it is still too expensive for the activity budget.
The difficulty of using the internet for individual research,
Difficulty understanding the language associated with new technologies,
Technical difficulties related to Internet networks,
The games understanding and the length of the games.
What can be improved?
The following are areas for improvement with respect to the new technologies currently in use:
A simpler operation, adapted to the public's handicaps,
A sleeker design (often too much information on the same page), a loud sound, a simplified keyboard, more visible keys, and readable, large-print fonts,
More games adapted to the elderly: games that are not childish, adapted, and easy to understand,
The non-defeating: solutions often defeat the seniors who get bored very quickly when they don't succeed,
Solutions that don't always need wifi, in order to carry out individual workshops in the bedroom or in remote living spaces,
A multiplayer mode,
Design solutions as fun activities, so that residents think about having fun before they think about exercise,
Simplification of presentation vocabulary,
Affordable rates to allow institutions to equip themselves in greater numbers
Partnerships to be set up to initiate residents of nursing homes to the manipulation of tablets.
Why haven't you tried out new technologies?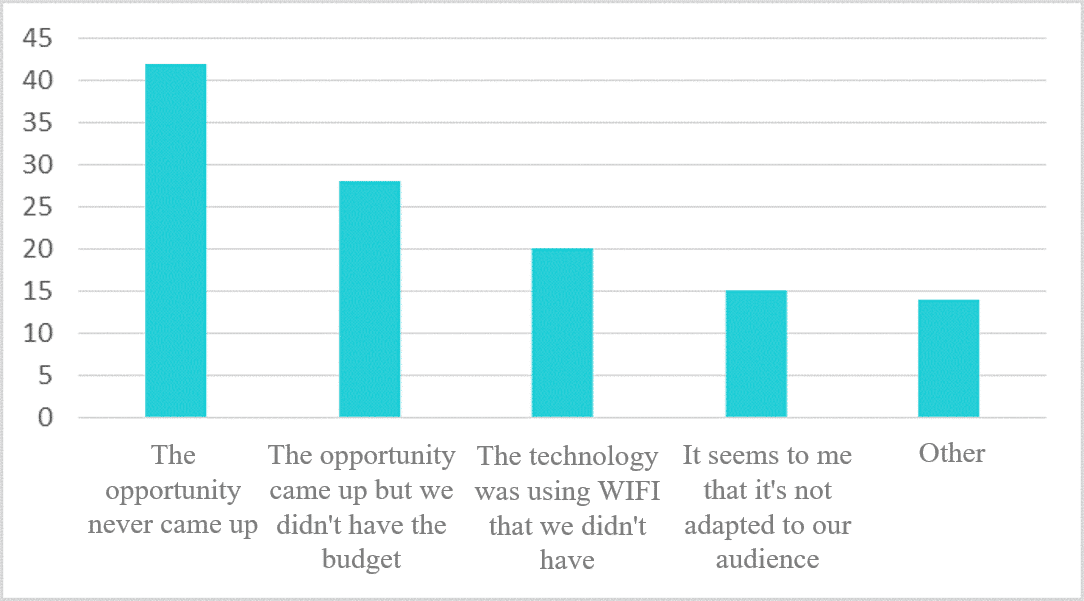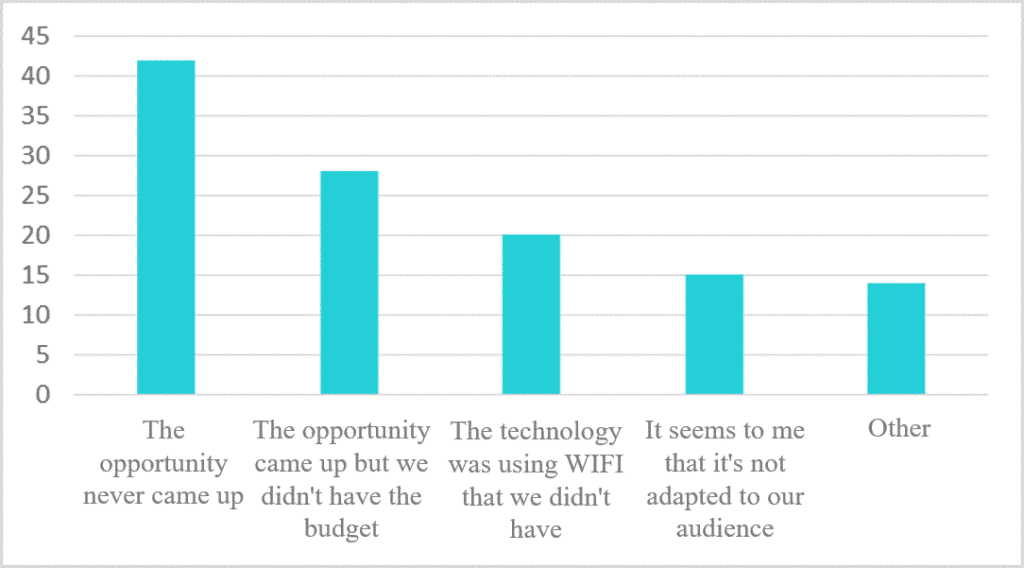 Other reasons why new technologies have not been used include the following:
the lack of adaptation of solutions to the residents' profile and to the real needs of the nursing homes,
Solutions require a lot from the individual, and facilitators are not always trained in individual care,
the motivation and lack of time of the facilitator,
investment priorities,
the rural environment.
STRUCTURE INFORMATION
Respondent's Profile
In 76% of cases, the respondents to this survey were the facilitators in the institutions, but the survey was also often completed by the directors, nurses, special educators or art therapists.
How many beds/places does your structure have?
The majority of establishments have a capacity of 60 to 90 beds/seats.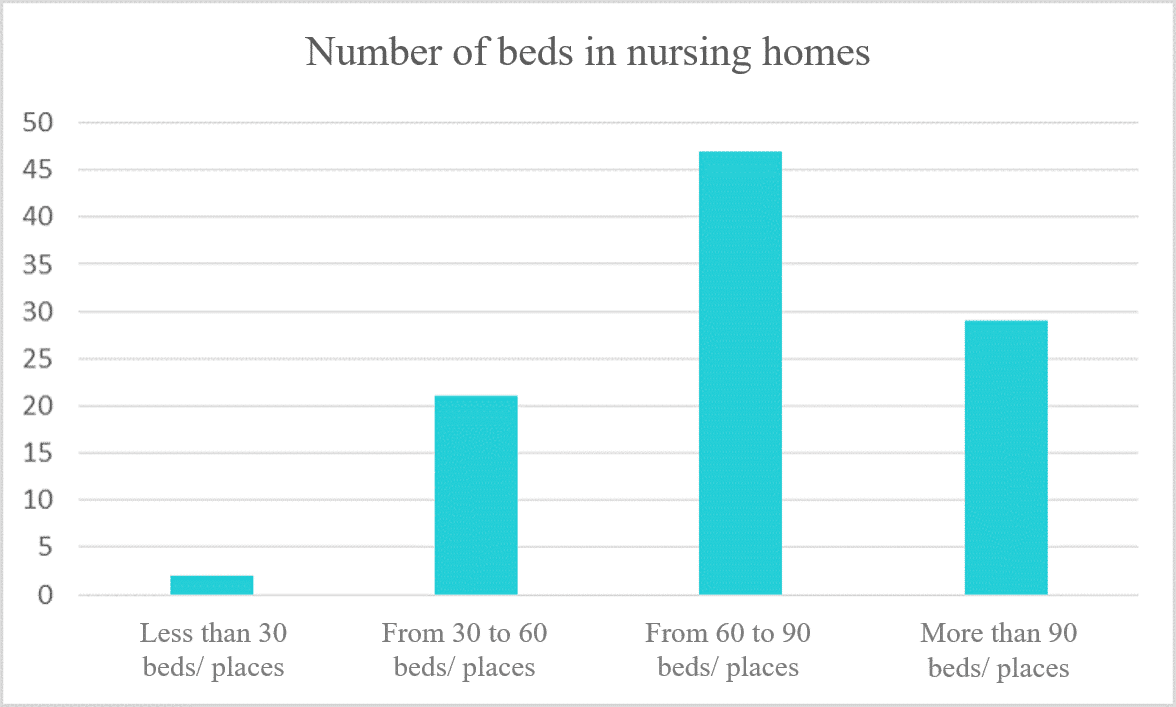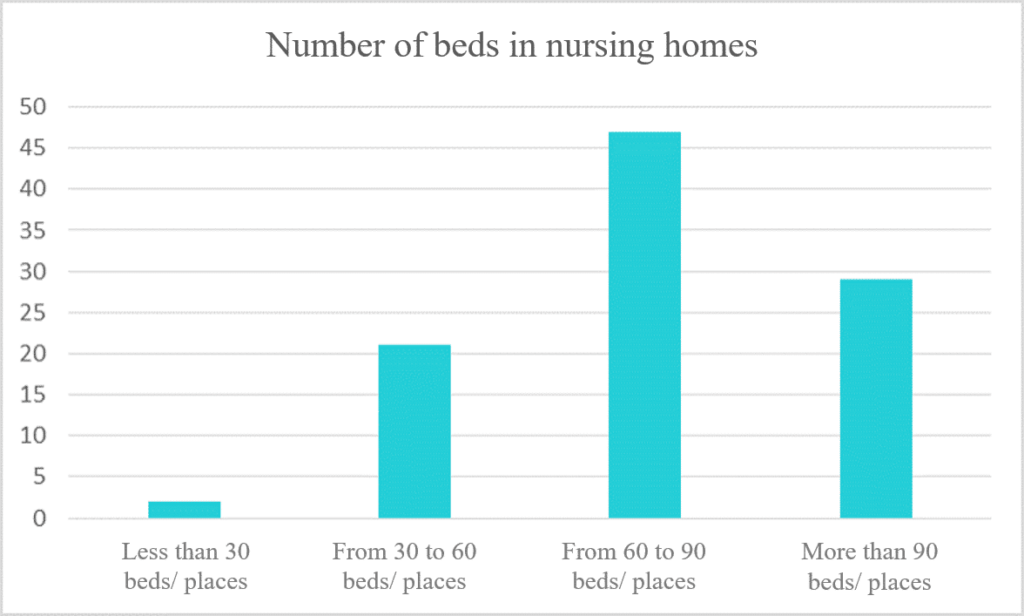 Are you interested in this survey? Would you like to talk to a specialist about the possibility of setting up digital activities in your establishment?


DISCOVER INNOVATIONS THAT MAY INTEREST YOU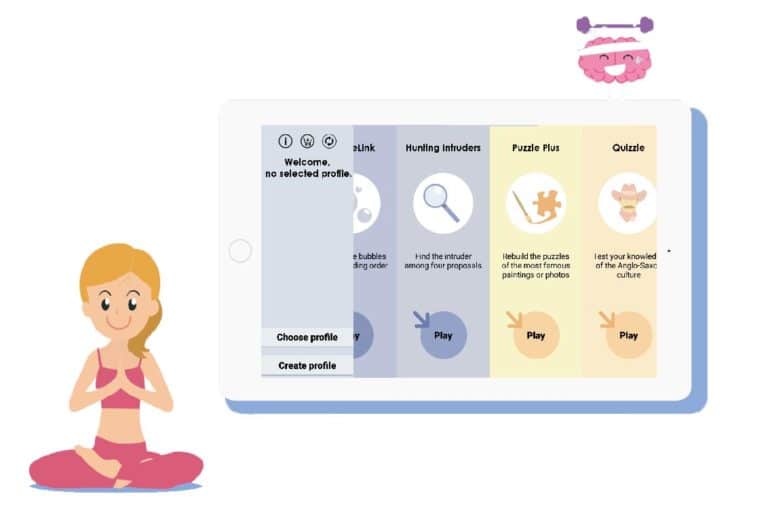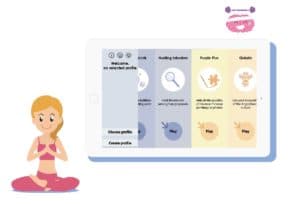 Stim'Art SCARLETT, an easy version adapted for seniors suffering from cognitive disorders.